Claverton Puming Station
Claverton Pumping Station, This fine piece of engineering was again the work of the engineer John Reniie, he designed it s the solution to water shortage problem that was posed by the nine mile level between Bath and Bradford on Avon.
It in theory had the capacity raise 100,000 gallons of water per hour from the river to the K&A canal. Up and running in 1813 it continued in use until closure in 1952 now Grade II listed.
The building has been lovingly restored by the K&A Trust a feat in itself as with many of their projects, much of which including this are undetaken by volunteers. The Pump house is open every Weds, Sat Sun and Bank Holidays from April to October.
For more details check out the Claverton website and see maps and pictures below.
[geo_mashup_map map_cat=10 zoom=9 height=200 width=490]
[geo_mashup_location_info]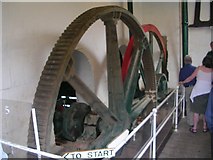 Gear Wheels for Pump – Claverton Pumping Station
© Copyright Betty Longbottom and
licensed for reuse under this Creative Commons Licence.